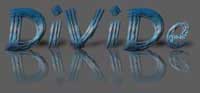 August 26th, 04
Support children across the world by attending tomorrow's musical benefit at the Park West. I, as a teacher, know the importance of our youth so we may continue our existence.

Lots of great bands in one night.

August 15th, 04
In the True Spirit of the Music…

Come see the musical event of the Olympics held at Café Stoa. DiViDe is going for the bronze, not the gold, and we are guaranteed to win!

With special guest Maria Photopulos going for silver.

July 30th, 04
Had a great time in Rockford! From the car wash to The Pimps to the headlining set of Left 4 Dead. Incredible night, excellent show! Major thanks to Left 4 Dead for bringing us to Rockford, our home away from home.

July 24th, 04
It's a bird, a plane, no it's DiViDe!

Jagermeister presents DiViDe and their friends, Left 4 Dead at the Kryptonite Bar up in Rockford, Illinois. The Jager-ettes will be there to hand out shots.

Lots of shows back in Chicago land, including 602 North and the Park West. Visit dividemusic.com for more details.

July 13th, 04
What a crowd at Café Stoa! They liked us so much at Stoa that we'll be back to play there in August.

I know many of you have been eagerly awaiting music to download. Now you can! Go to the media page for a live sample from 88.3FM, and the single, "Missing You", that has been circulating the radio waves. Get a free CD at any live show.

Check out the fan site http://www.myspace.com/divide. It was created less than a week ago, and has over 100 members to date.

July 5th, 04
We hope everyone is having a great 4th of July weekend. Extend your weekend, come out to Cafe Stoa Tuesday night. Stoa has a very Mediterranean contemporary lounge-like atmosphere. Sit around with some friends, or drink up with some new acquaintances.

July 1st, 04
We were privileged to share the Nite Cap stage with some amazing bands and stars. Including John Kelly of Type O Negative, and a guest apperance by Johnny Monaco of Enuff Z'nuff (we know you're reading this), who all performed with Happenin' Harry.

Huge thank you's go out to Diamond Dog from Rockford and Rebels Without Applause for their support. The astonishing Superna all the way from Houston, were remarkable to watch, and cool to hang with.

June 26th, 04
We'd like to thank the mass number of people who came out to support our show on Father's Day at Durty Nellie's. For the second time we brought the largest crowd to Nellie's. The video is going to look outstanding!

DiViDe was just interviewed and performed on "Da Music Show" (www.damusicshow.com). Aired nationally, more than once a week, on network, cable, and satellite TV. Check your local listings. We will let you know when our episode will be aired.

Our show tonight at Nite Cap is huge. We're playing with HAPPENIN' HARRY & THE HAPTONES ALL STAR BAND, which includes Dizzy of Guns N Roses, and John Kelly of Type O Negative. The renowned "Rebels Without Applause" are also playing tonight. Make sure you're there early for DiViDe.

June 20th, 04
Tonight is the night worth $10k and more. For all of you it's a chance to be in our live video for one of our singles. This show will be recorded for digital release on our upcoming interactive CD. Make sure you're attire is sinfully appropriate so you will be noticed on camera.

June 6th, 04
DiViDe is playing tonight (Sunday June 6th, 2004) at the multileveled club, Cherry Red. You'll feel beautiful, secretive and sinful within the welcoming, almost sleepy red lights of Cherry Red. We'll be sharing the stage with our close friends "Cocytus". We need your support at the Sam Ash "Battle of the Bands" FINALE, on Sunday, June 20th at Durty Nellie's. More information is at www.dividemusic.com

May 25th, 04
We wanted to thank all of the fans that supported us last night at Durty Nellies. We won! and are on our way to the FINAL round, worth over $11k in prizes, promotion on XRT radio, and a boatload more. We need your support on Sunday, June 20th, 2004. Special thanks to Rob & Pat from Sam Ash, Paul P. of Durty Nellies, and Hairbanger's Ball.
May 19th, 04
SAM ASH "Battle of the Bands" presents:

DiViDe at Durty Nellie's! Tell 'em you're there for DiViDe!! Sunday, May 23rd, 2004 Lots of live shows this June, and all summer long. More details and maps to all shows are listed on the front of dividemusic.com

April 20th, 04
Tune your FM dial, or press a button, to 88.3, to hear live performances of the upcoming DiViDe EP. We're doing the whole "Lone Ranger 'seize the radio station'," so they let us play. Our set will extend to 11:30, and will include lots of features about the band and material. Café Stoa is hosting a broadcast with specials on food and boos before, during, and after.

January 15th, 03
Hope everyone had a great New Year. We sure did. Just wanted to let everyone know that there are lots of things going on so far this year. Working on a demo, and a music video. There is a video clip for the song "Alone" at the Media page. This clip will look nothing like the full video that's being worked on. There are new wallpapers available for download at the media page. If anyone has anything to submit, like clip art, backgrounds, or anything else, send them to divide@bigfoot.com Please specify where you want it added.

November 14th, 02
DiViDe's heart felt condolences go out to 'Synge' (syngerock.com), and the family and friends of John Merichko.
Lead Guitarist, John Merichko, was critically injured in a work related accident. He was working at Woodfield Mall on Thursday and fell through a skylight on the roof, plunging 26 feet onto an upper level concourse. He had been at Alexian Brothers hospital for the last 2 days on life support and Saturday evening he passed as a result of his injuries. The full story can be found at the Chicago Tribune's site.

We all will miss him and wish the best to his mother, father, brothers, Tina and their daughter.

May he rest in peace.

September 27th, 02
We've been back from the other cities for a couple weeks. New photos from Valparaiso, and Detroit have just been added to the site at the Media page. Have a show at the massive Lakeview Links tomorrow night, Friday, Sept. 27th. Doors at 9pm, DiViDe @ 10pm. We're playing with Perv 54, and Water on Electricity. This show is 21 and over. Please come out and support your local bands, you won't be let down. Just wanted to say congratulations to Chicago's Disturbed. They debuted at friggin' #1 on the top 200 billboard charts. (FYI)

August 31st, 02
Boy oh Boy! We have to thank our friends, family, and fans, for coming to support us at the Hard Rock Café Battle of the Bands. So many people there for us, but for some reason, we did not win, even though the winner is tallied by the amount of votes you get in the door. Even the other bands, which had as many people or more, did not win. It seemed like it was handed to the band with the least number of votes. Supposedly, we were disqualified for playing a cover song in our set list. Had a good time at the Café, up until we had to deal with corporate scum. Now I know what 'Rage Against the Machine' was all about. Like to thank Sludge, from Q101, for checking us out.
Today is the big day in Valparaiso, IN. Playing in front of thousands of people, opening for the Xecutioners, at the 'Live on the Decks' event. DiViDe takes stage at 9pm. If you need more information, please see the 'HOME' page.

August 9th, 02
What an amazing night at the Double Door. The first thank you goes out to Noel, and Mesum, of Darkmedia.tv, for putting this show together. Next we would like to thank John Connolly for creating some awesome electronic sounds with our set for the first time. Finally, we have to thank all of the fans that came out on a Wednesday night for DiViDe, and the other bands. We were told that this show brought in more people than average Wednesdays at the Double Door. I almost forgot to thank Avi Savin for doing photography. We have some incredible shots from the show at the media page. So many people helped that night. We probably forgot to thank some of you who did help us.

August 6th, 02
Darkmedia.tv presents the Double Door show tomorrow night. Darkmedia have recently signed DiViDe under their management umbrella. We are extremely thankful to work with Noel, and Mesum, of Darkmedia. Hope to see all of you 21 and over folks at the show on a weeknight. We will raffle off a DVD player towards the end of the night if anyone is interested. Make sure to use the tickets attached on the email to get in for a discount.

July 9th, 02
First off, I would like to thank everyone for coming out to Afternight Studios. We over sold the amount of tickets that were given to us, so the place was comfortably packed. Everyone seemed to like our new song, it is untitled for now, which we opened our set with. There are some astounding shots at the media page from the show. We'd like to thank Jerry Kohn for doing the photography.

Our next show is at the Double Door, August 7th. Tickets will be downloadable at the site very soon. The show is presented by darkmedia.tv, and is 21 & over. Get more information at the 'upcoming shows' section on the front of the site.

Make sure to read the jokes at the JoKe page. New jokes are posted every week. If you have one, and think it's funny enough, email divide@bigfoot.com

June 24th, 02
MOBfest 2K2 was amazing! So many bands, in such a short period of time. I wish every band that played the best of luck with positive outcomes from this showcase event. DiViDe had one of its largest turnouts to date. This show was so important, we even added a new guitarist. His name is Robert, and you can see what he looks like at the media page. Special thanks to Michelle Mallin, of MM 2000 Attractions, and the US BEER CO. The BIGGEST thanks goes out to all the fans that came out to support the show, and www.darkmedia.tv, for their support. There is an All Ages show, July 7th, at Afternight Studios, and a Double Door show is in the works. Email divide@bigfoot.com for more information.

May 30th, 02
Afternight was a damn good show! We'd like to thank everyone who bought tickets, and all of the awesome Kaos Rising fans. Sorry they broke up the pit again and again. Kaos Rising, who played directly after DiViDe, put on one of the hardest shows to date. The show was recorded on video, and audio. We will have MP3's, and video clips available for download at the Media page very soon. If you haven't seen, or heard, DiViDe, you're going to want to come to the Mobfest show June 21st.

May 9th, 02
Our show was phenomenally fun at the US Beer Co., last Friday night. The black lights were difficult to see with, but made us look piercing. We'd like to thank Serpent Crown for putting on a great show, even without one of their limbs. We would also like to thank darkmedia.tv for coming out and supporting us. You guys always help out local bands. We will be back playing at the US Beer Co. for Mobfest, on June 21st. Hope to see everyone there. Don't forget to buy tickets to our upcoming ALL AGES show for $10. If you want a ticket email DiViDe ASAP.

April 30th, 02
Official DiViDe Website 3.0 is launched. The site is easier to navigate through. If you find any bad links, please report to the Webmaster. If you have a site, and would like to exchange links, go to the links page. Keep coming back for news on DiViDe, up and coming bands, and anything else that's music related. There will be news updates as often as possible.