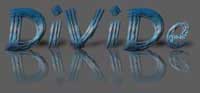 DiViDe: a progressive rock band the likes of which are rare.

With influences ranging from Type O Negative, Faith No More, and the Beatles to Paganini to Kenny Burrell, DiViDe has fused many styles and genres into one intense package. This chemistry is attained through a democratic rapport among the band members. DiViDe recognizes the distinctive edge each individual contributes.
David Rose
, DiViDe's vocalist and rhythm guitarist, brings to the band an uncanny propensity for nailing the vocal melodies in the songwriting process. His lyrics — cathartic, engaging, and usually of a personal nature — convey unfeigned emotions and sensations extracted from David's outer- or inner-psychological environment. He and DiViDe know that they can touch an audience by evoking a personal connection. As David expresses it: "When the audience feels our music, when I see someone identify with what we've been through, is when all the hard work is most rewarding. Hopefully, our music can be both a fierce release and an internal psychoanalysis."
A seasoned local musician, guitarist
Albert Antar
brings layer and depth to DiViDe's music. This proficiency is perhaps due to the many musical directions he has explored on many different instruments. "Guitar is what I love, but it was only the beginning," he says. "It was like my gateway drug — it just led me to one instrument after another. I feel comfortable amongst musicians and musical instruments, although nothing feels as right as being onstage playing guitar." The live setting is certainly where Albert's role becomes most obvious and clear. His knack for keeping the channels of communication open, with the audience and the band simultaneously, is largely to thank for DiViDe's onstage energy. In addition, Albert is no slouch when it comes to technique or theory. "I'm a real theory- and precision-oriented musician. Guitarists who find that place between toning down their material and overworking their material are the ones I enjoy most."
DiViDe's rhythm section can be delicate and cool and, a moment later, driving and adrenaline-charged. Drummer
George Chronis
exacts a potent lead style that demands the listener's attention. Influenced by the likes of Ringo Starr and Lars Ulrich, George is the propelling force behind the band's most hard-hitting moments. Enough can not be said regarding his remarkable ability to take a piece of music and augment its rhythmical possibilities. This makes George exceedingly invaluable in the songwriting process.
Also laying down the rhythm is bassist Carl Mohrbacher. Carl unabashedly injects elements of punk, funk, and trance-like bass lines into DiViDe's hard-rock muscle. His playing can be smooth or punchy but in all his stylistic directions, Carl always preserves an engaging style all his own. An exemplar of how each member of this band brings an added dimension to the collective sound, Carl activates the part of an audience that wants to move. Adding to this rhythmically persuasive quality is his stage presence. Carl can seldom be caught idle, even during band practice.